Our Venue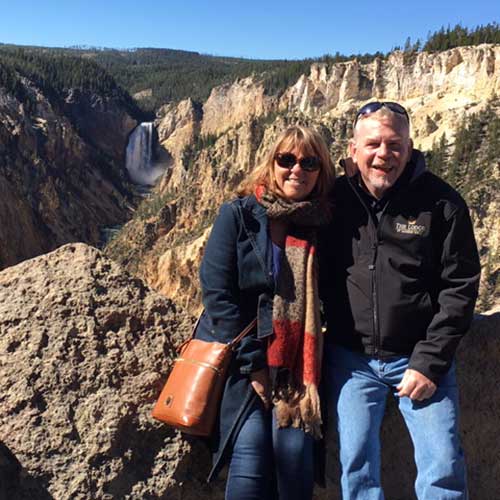 Our Vision is to make your special event stress free & full of memories that will last a lifetime.
Jackie
Jackie oversees all aspects of the Stable at the Virginian, LLC established 2019. She has planned with detail each project related to the property.  She recently worked in the medical field in marketing and sales and is a critical care nurse. She is also a talented and versatile artist who loves to work with people, helping them gather ideas and aiding in the process of planning an event. She received her wedding and event planner certification through "The Bridal Society" and is a lifetime member. "Your event is special to me and embraces my heart, as together we create the wedding/event of your dreams for your special day". Her design concepts have been so well received over the past year that she has now launched our company, The Stables at the Virginian, LLC. Ask her for more details.
Mike
Mike is currently a practicing physician. His decision to build a "western stable" originates from the Cowboy Way's Code of the West. The Code of the West is the personal character and principles you live by, and a great way to approach business ethics. With high regard Mike values "The Cowboy Way" Although he is not a cowboy in the traditional sense he admires and respects what they stand for. The cowboy represents the best of America- honesty, courage, integrity, their optimism, a genuine humility, self-reliance, and the hard work and being true to their beliefs that sets them apart. He manages the business side of The Stables at the Virginian, LLC. He develops and implements all finance, legal, and business plans with great enthusiasm and dedication, ensuring professional results. He tirelessly cares for the property, completing all maintenance, repairs & oversees new construction.
Contact us
Are you interested in scheduling a tour of The Stable at The Virginian?
The Stables at the Virginian was built with you in mind. Each detail inside and out was carefully thought out to make your special event stress free and full of memories that will last a lifetime. We can accommodate up to 150 guests.  Our main celebration room offers an open floor plan and is large enough to accommodate your wedding with plenty of room for dancing.  The built-in bar, located upstairs in our Saloon provides another area for your guests to gather and celebrate your special day. The Saloon deck is a great place to view the sunset and enjoy cocktails under the stars. Whether you are planning on a small family gathering or a large event our open floor plan and variety of outdoor options provide a stunning place for your event. Our vision was to provide a beautiful venue inside and out for your special day. We encourage you to tour The Stable at the Virginian and envision your wedding or event with us. Please visit our website for more details. https://www.thevirginianatwestlake.com
Jaclyn is also on site most days and is available to arrange your tour.
Phone: 540-521-9748 – Ask for Jackie
For directions: 9945 Brooks Mill Road, Wirtz, VA 24184
Email: jaclyn@thevirginianatwestlake.com
Or, Fill out the contact form and let me know which month/year you are planning your event/wedding.